HOOPSWORLD TV
HOOPSWORLD catches up with Houston Rockets forward Terrence Jones on growing into a bigger role this year.
read more
More HOOPSWORLD TV
chats
Lang's chat begins Wednesday night at 8:00pm EST. Get your questions in now, everything NBA related is up for discussion.
nba news
From speed to size, travel to timing, NBA rookies discuss the biggest surprises and challenges they've discovered early into...
read more
More NBA News
NCAA Basketball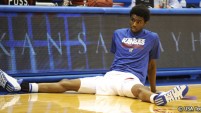 by Eddie Timanus, USA TODAY Sports The top five got a bit of a shake-up this week, but the...
read more
More NCAA Basketball
Fantasy Basketball
Today we will take a look at those players that have seen their stock spike over the first few...
read more
More Fantasy Basketball