HOOPSWORLD TV
HOOPSWORLD catches up with Houston Rockets forward Chandler Parsons on how the team is meshing together.
read more
More HOOPSWORLD TV
chats
HOOPSWORLD Publisher Steve Kyler will hold his weekly chat at 10:30am EST on Mondays. Drop in your questions regarding NBA trades, the NBA Draft, roster moves or questions about...
nba news
The Toronto Raptors agree to a seven-player trade involving Rudy Gay... New Orleans big man Jason Smith wants to...
read more
More NBA News
NCAA Basketball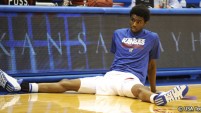 by Eddie Timanus, USA TODAY Sports The top five got a bit of a shake-up this week, but the...
read more
More NCAA Basketball
Fantasy Basketball
Today we will take a look at those players that have seen their stock spike over the first few...
read more
More Fantasy Basketball